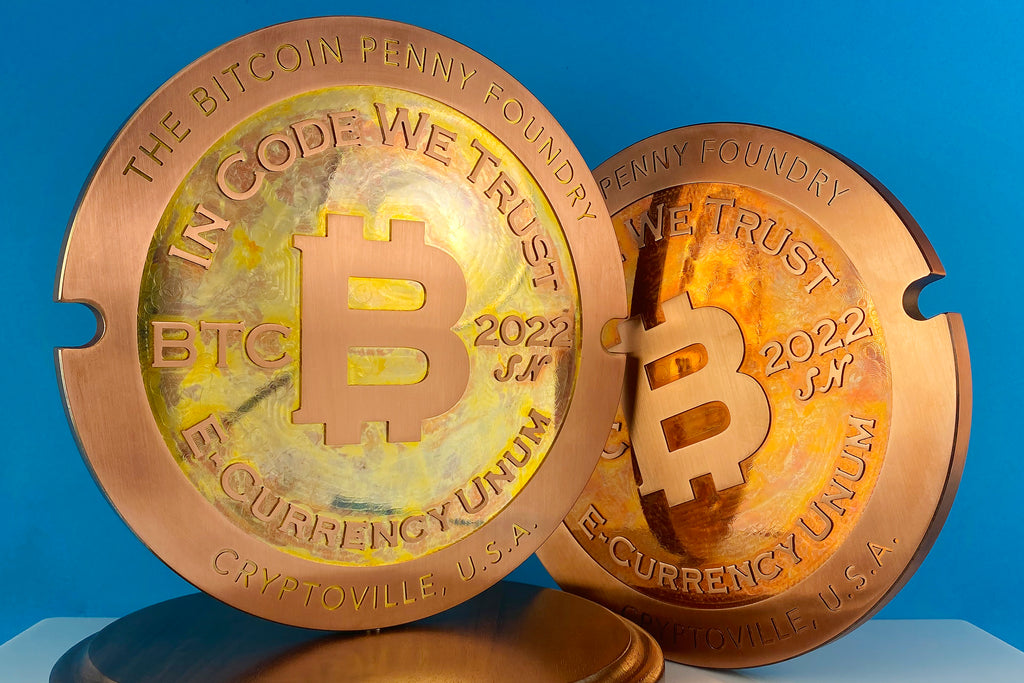 2022 Bitcoin Penny® MINI Manhole Cover, COPPER EDITION
$ 2,100.00
THE BITCOIN PENNY COMPANY is thrilled to announce the official release of our THIRD installment in the now infamous "Manhole Cover" Art Series — the NEW 2022 Bitcoin Penny® MINI Manhole Cover, COPPER EDITION!
Production has officially started on this amazing .999 SOLID COPPER (Cu) version of our 2020 Bitcoin Penny® MINI Manhole Cover! However, due to the current bear market climate, these special art pieces will be created upon request in small batches only. (Please allow 2-3 weeks for delivery.)
Total production is limited to 21 pieces only.
Project Name: Bitcoin Penny® MINI Manhole Cover, COPPER EDITION
Manufactured By: The Bitcoin Penny Foundry (Cryptoville, USA)
Manufactured For: Satoshi Water Company (Nakamoto, Japan)
Year: 2022
Material: Solid .999 Fine Copper
Finish: Iridescent Rainbow*
Base: Solid Walnut Base w/ 360° Swivel Display
Dimensions: 8" Round x .45" Thick
Weight: 7.0 Lb (without 14oz Walnut Base)
Quantity: 21 + Prototype
Serial Numbers: #00/21 (Prototype), #01/21, #02/21, #03/21, and so on.
Fundable: Yes (Private key is sealed under copper tag on reverse side.)
List of Public Addresses by MMC Serial Numbers: Coming Soon
Price: 0.125 BTC
Special Bear Market Sale Price: $2,100 USD
*The incredible iridescent rainbow color background effect was created through an experimental proprietary production method which includes, among other manufacturing steps and techniques, a special low temperature baking process combined with a transparent Teflon® / PTFE finish. The result is truly amazing and must be seen in person to fully appreciate! The final iridescent rainbow color background varies with each individual piece, and all prototypes have resulted in absolutely stunning backgrounds of swirling golds, oranges, greens, blues, and purples! This makes every single one of these special art pieces uniquely colorful!